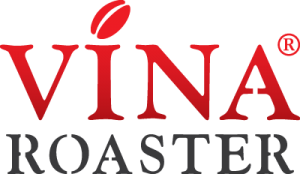 🟤 Introduction:
VINAROASTER IS PROUD TO BE A MANUFACTURER operating in the field of manufacturing coffee roasting machines using leading automatic technology and precision mechanical equipment in Vietnam.
With modern equipment and a team of skilled engineers, VINAROASTER brings high quality products, guaranteed delivery schedules, and meets customer satisfaction.
With the motto of constantly improving and always moving forward based on modern technology, we have been providing diverse products, systems and services such as:
Mini capacity coffee roasters for shops: 1kg, 3kg, 6kg to industrial roasters with capacities of 12kg, 22kg, 30kg, 60kg, 120kg, 240kg
Accompanying machinery and equipment for setting up factories, roasting facilities, coffee shops: Smoke and odor treatment system (after burner), machine to separate metal, stone, and gravel after roasting (destoner)…
Currently, VINAROASTER is constantly learning and cultivating the latest and most modern technical technologies to improve its roasting machines before reaching customers, so that coffee beans are roasted from Vina's machines. Roaster will always have a distinct value. And Vina Roaster will constantly try to reach further to accompany the Vietnamese coffee market and the world.
Owning a Vina Roaster coffee roaster is not just about owning a machine, but we also give you an opportunity and an advantage for your business.
🟤 Products/Services:
Coffee Roaster Machine
🟤Company information:
Address:
Email:
Website: