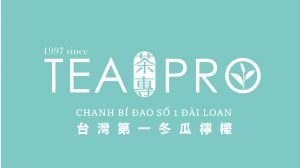 🟤 Introduction:
TEAPRO Milk Tea brand from Taiwan has been established for 26 years now, achieving many awards and excellent achievements. In 2023, Taiwanese president Tsai Ing-wen came to the store to enjoy TEAPRO's Winter Melon Lemon Tea. Currently, TEAPRO is officially present in the Vietnamese market, aiming to bring customers drinks of the best quality and most suitable prices.
🟤 Products/Services:
At the Tea Pro brand exhibition, we are proud to present a series of unique and high-quality products and services related to the world of Taiwanese tea. With the mission to bring exquisite flavors and the ultimate mixing experience, we showcase the following products:
Diverse flavors: At the Tea Pro booth, you will experience a variety of flavors. From refreshing lemon flavors and delicious sweet squash,to refreshing green tea and rich black tea, we offer great options to enrich your menu.
Advanced brewing technology: We will introduce advanced brewing tools to help you create perfect cups of tea. With Vietnam's No. 1 modern coffee maker, and many other technology products, you will enjoy a convenient and quality brewing experience.
Tea: We are proud to introduce unique products, only available at Tea Pro. Discover special teas, with their own flavors and origins, that make a difference in the world of drinks.
Training services: If you are interested in the art of blending, we offer in-depth tea training courses.
Care for quality: At Tea Pro, we value the quality of each tea leaf. We will share how to preserve and package the product to ensure that the flavor is always fresh and rich.
Come visit our exhibition to experience the world of flavors and creativity in Tea Pro's blends. We look forward to sharing with you the wonderful things about the world of Taiwanese tea.
🟤Company information:
Address:92 Đinh Tiên Hoàng, Phường Đa Kao, Quận 1, Thành phố Hồ Chí Minh, Việt Nam
Email: teaprovietnam.official@gmail.com
Website: no