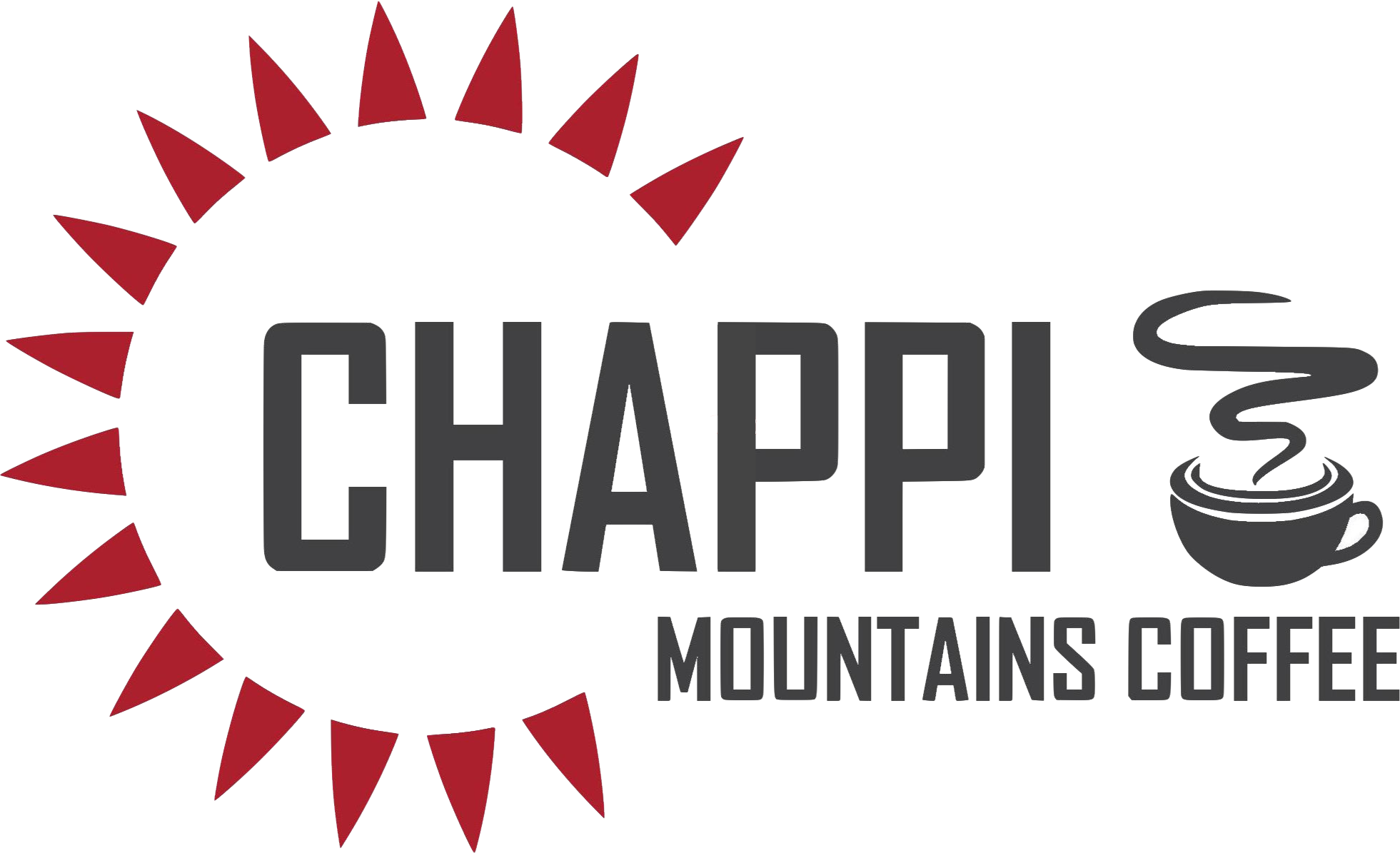 COMPANY INTRODUCTION:
AT 1500 METER ABOVE SEA LEVEL, Arabica Chappi Mountains Coffee is grown and preserved by ethnic minorities. The unique taste of selected ripe Typica, Bourbon and Catimor coffee cherries from coffee trees grown in the shadow of the forest trees, absorbing the essence of heaven and earth, combined into a strong, less sour and sweet aroma of pine forest and honey and the scent of flowers and fruits. The quality of Arabica Chappi Mountains coffee is unique and following international standards, directly managed and produced by a Swiss owner. This selected and hand-picked coffee will give you the opportunity to experience a delicious cup of coffee with natural and traditional flavors.
We are working closely with the Chappi Mountains Arabica Cooperative in the Lac Duong Region to source our coffee in a sustainable way and help to improve the livelihood of the farmers in the coffee highlands.
All our roasted coffee products are UTZ certified, a label which covers sustainable production principles and fair-trade aspects. Our products are representing the rich agricultural diversity of Lam Dong Province.
In November 2019, our Chappi Mountains Coffee brand has received the OCOP certification from Lac Duong District, Lam Dong Province, as a recognition for our effort to combine the high quality of our products with sustainable and socially responsible business activities.
In July 2020, we have achieved another milestone with the certification "Special Product from Dalat / Lam Dong Province".
Since December 2020, the Chappi Mountains Arabica Cooperative is also certified according to UTZ standards. As a consequence, all our Arabica products are now UTZ certified 'from farm to cup' and we are very proud to be the first organization in Vietnam to achieve this goal.
Our fair trade and quality concept 'from farm to cup' includes the following activities:
We are buying the coffee cherries from the farmers with a premium above market price.
Together with two Dutch NGOs (SNV and IDH).
• We are supporting the farmers with coffee seedlings, organic fertilizer, expertise on sustainable farming, harvesting techniques, composting and water management.
• We are engaging in re-forestation activities and help the farmers to combine coffee with other agricultural products like macadamia and persimmon to diversify their income throughout the year (mini landscape project).
• We are educating a selected group of farmers on eco-tourism activities to help them generate an alternative income opportunity and at the same time create increased awareness for the importance of the sustainable environment protection for the generations to come.
With every bag and every cup of Chappi Mountains Coffee you are directly supporting our farmers in the coffee highlands.
• In 2022, we have obtained many other prestigious certificates of quality: Vietnamese agricultural gold brand, Typical Rural Industrial Products of the Central Highlands, 4-star OCOP. Roasting certificate issued by the International Coffee Roasters Association (SCA), ISO 22000:2018, Halal and the Rainforest alliance certification.
———————
DISPLAY ITEM:
Arabica green coffee beans, Robusta green coffee, robusta roasted coffee, Arabica roasted coffee.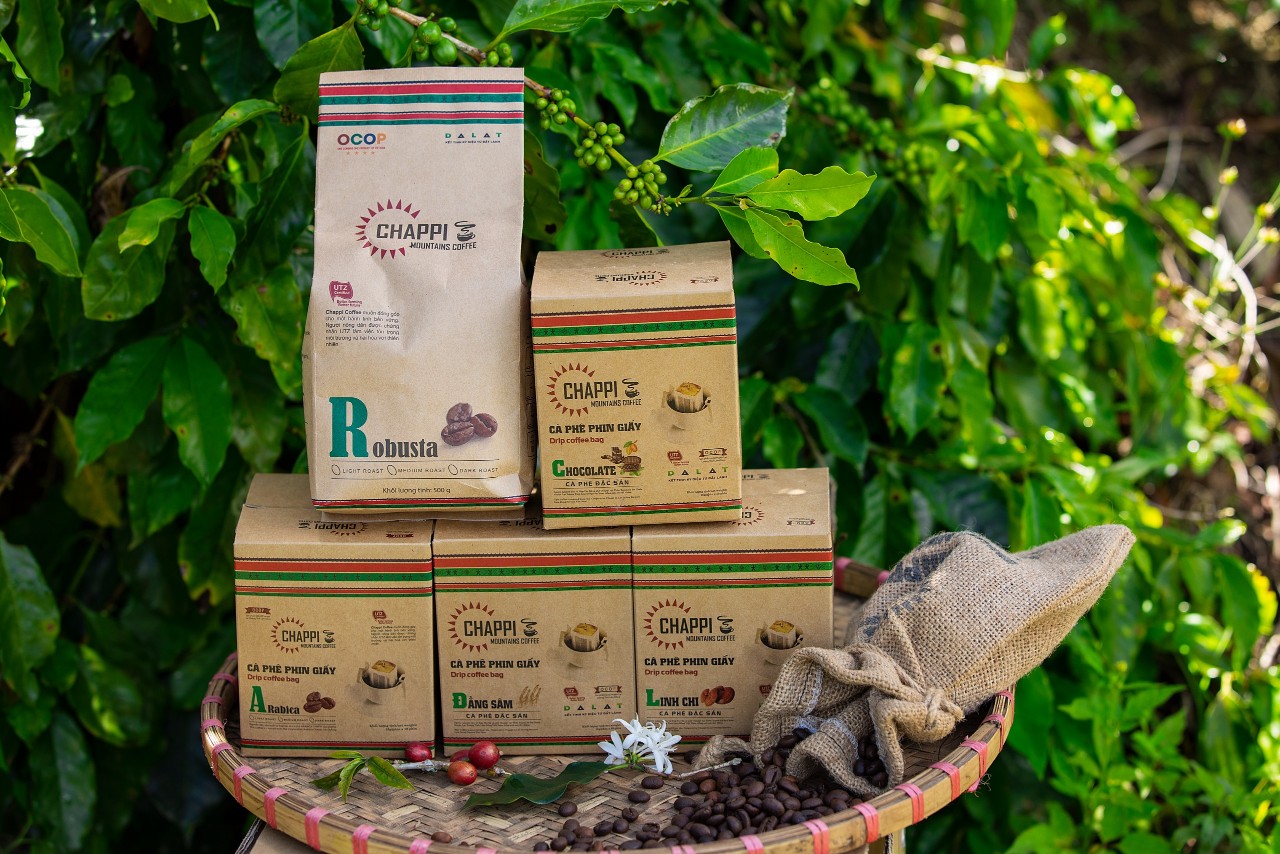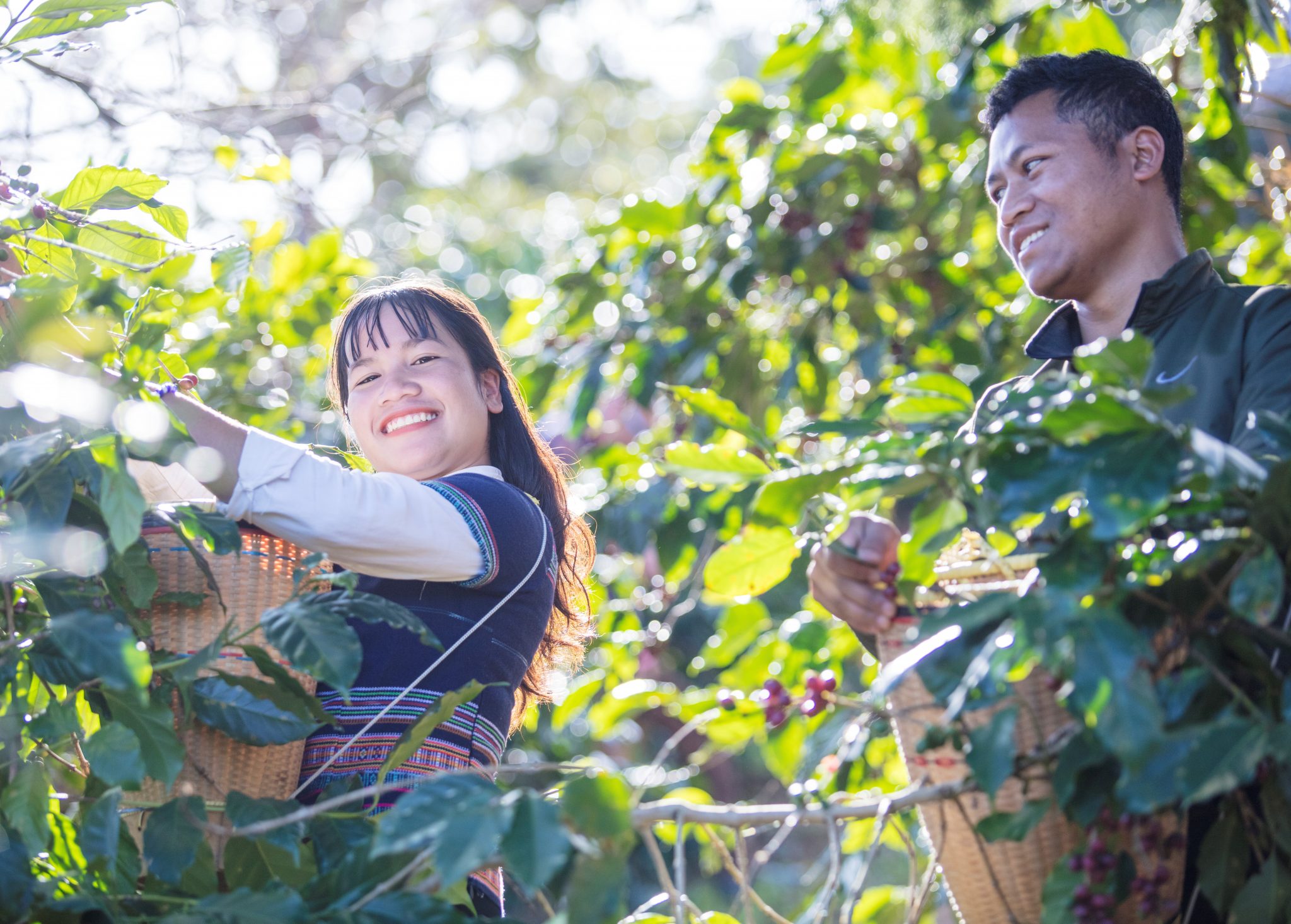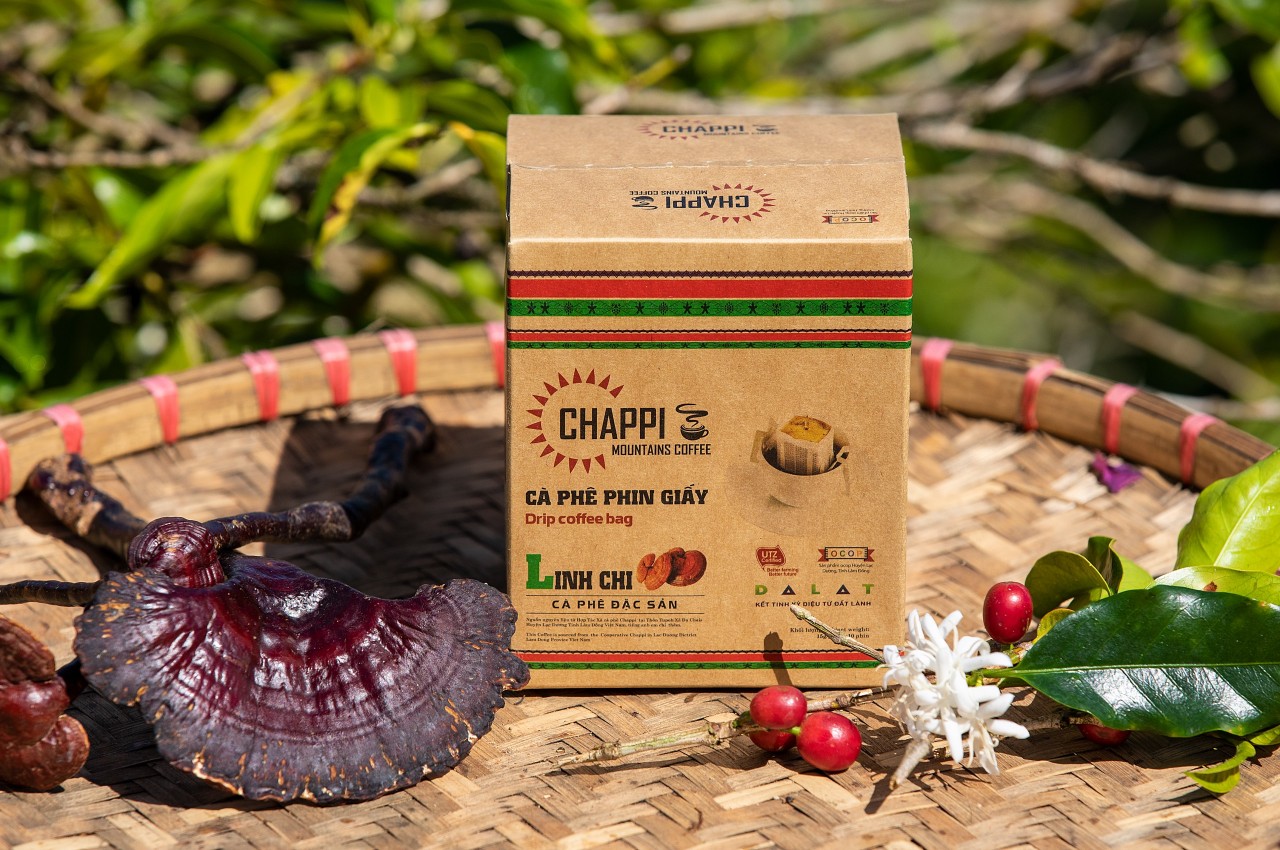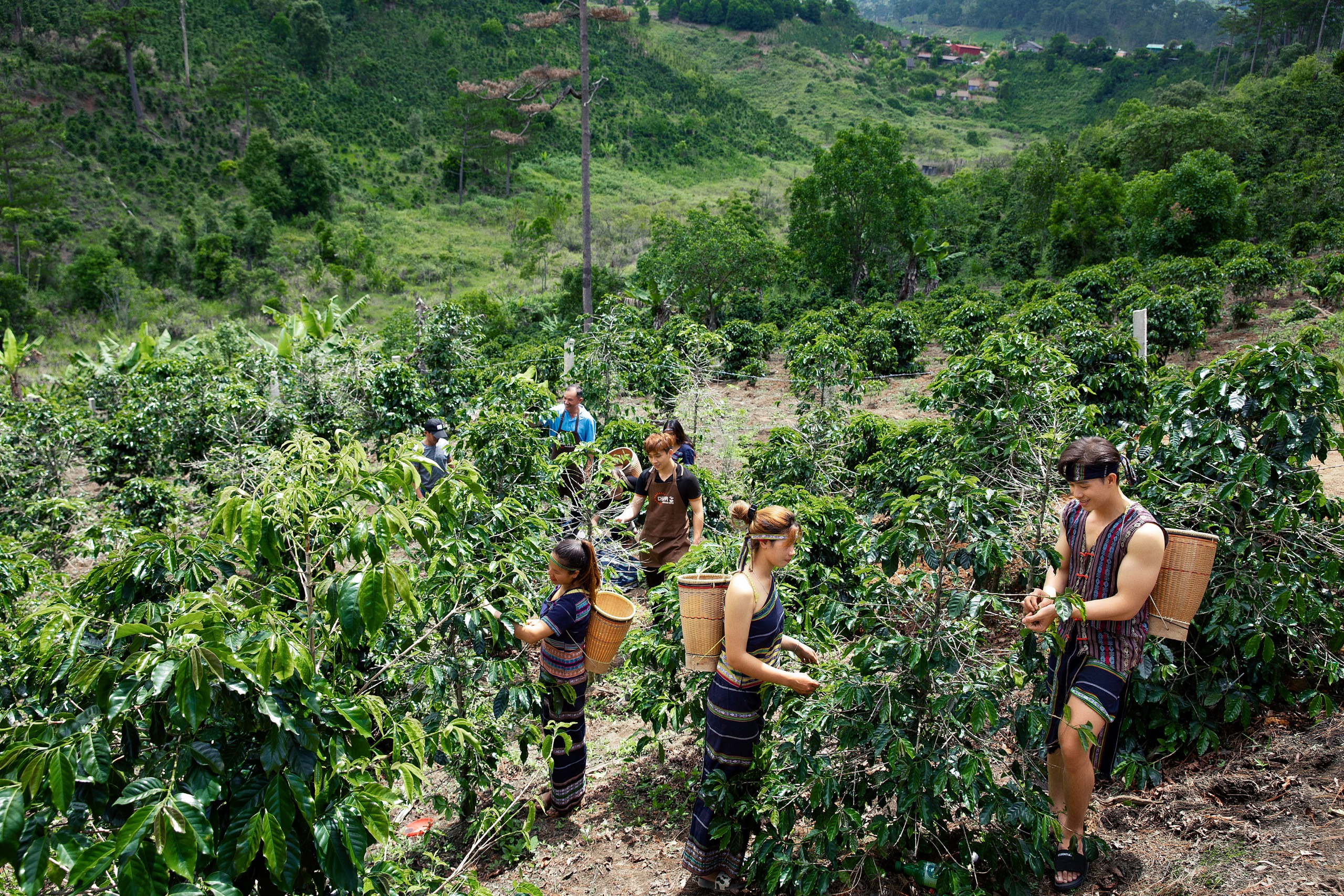 ———————
CONTACT:
Address:Tu Poh Village, Dạ Chais Commune, Lac Duong District, Lam Dong Province, Viet Nam.
Email: saleschappi@gmail.com
Website: Chappicoffee.com